CED Testimonials
The patients in the Testimonials list below have had the same procedure displayed in the
video above.
April 27, 1999

Dear Friends:
My husband was as strong as an ox, or so I thought. He worked out three times a week at the YMCA and was an avid archer. So when he was diagnosed with a cervical herniated disc after plowing and battling more than 100 inches of snow that fell within two weeks in January, I believed that he would recover with conservative therapy. (traction, medication and bed rest)
At the end of six weeks, however, it was apparent he was not going to recover any time soon. Forty-five pounds of weight during traction did not relieve him. The pain that radiated down his left arm to his elbow and into his fingers was consuming. He described it as feeling as if his fingers 'had been crushed in a car door.' Muscle relaxers kept the pain tolerable, however, over a course of time they had been losing their effectiveness and he was taking above the prescribed dose. Other powerful, addictive medications were prescribed and though they lessened the pain, my alert, vibrant husband was growing dreamy, unconnected and morose.
The specialist he had been seeing referred him yet to another specialist. An appointment for the first week in May was the soonest we could get in. By now, it was only the second week in March. We had six weeks to wait. Several other specialists that I contacted were booked well into May as well.
Meanwhile, my husband was unable to work. The bills just kept coming in. Our ship was sinking.
Attestations from other people who had herniated a disc were troubling. Some recovered after conservative therapy, some got help through chiropractors but a great deal seemed to have learned to live with it. Their lives had been seriously curtailed by pain, long-term drug therapy, unsuccessful surgeries and disability.
Dr. Schiffer's website offered a ray of hope. He described an minimally invasive and innovative procedure that was performed on an out-patient basis that resulted in less discomfort and faster recovery than conventional procedures. My husband was most impressed with the sentence, "Most patients feel immediate relief from pain following the procedure," and especially, "Little, if any, postoperative medication is required for most patients." My husband had begun to loathe his dependency on drugs.
Dr. Schiffer's experience and list of references was impressive, too. Desperate and with nothing to lose, we mailed him the MRI report. He telephoned the next day. He informed my husband that the MRI showed not only a herniation between C6 and C7 but also one between C5 and C6. These were herniations, he believed, that he could repair with his technique. Best of all, he could see him in three weeks.
Our hopes soared! Finally, there was a light at the end of the tunnel.
Our doctor, our chiropractor and the physical therapist all regarded the information on cervical endoscopic discectomy as unique and promising. They said that if it didn't work at least it wouldn't hurt him and he would be unharmed in case he needed a more invasive procedure. Everything about the business Dr. Schiffer conducted from his office assistant, Prabha and the man himself spoke of uprightness and integrity. People we called who made the pilgrimage from other states to California to see him for this procedure confirmed our impression.
We arrived at the San Franciso airport on April 5th. Joe had the surgery Wednesday, April 8th to remove both of the herniations in his neck.
By 11 a.m. that morning, I was driving him in our rental car to a bed and breakfast we had found outside San Francisco. I was so tired, I laid down and took a long refreshing nap. When I woke up, my husband was not in the room. I found him walking among the olive trees, talking to our host and sipping wine! My husband's old self had already started gleaming through the darkness. His pain was slight - not enough to be medicated and the opening in his throat was smaller than a mosquito bite. "Most patients feel immediate relief from pain following the procedure." The first prophecy had come true.
"Little if any post-operative medication is required for most patients."
Except for an occasional Tylenol, my husband hasn't touched his pain medication since the night of April 7 , the night before his surgery.
We didn't get to see a great deal of California. Joe was under strict orders to take it easy and not overdue. This was very difficult to do because Joe was feeling so well and California has so many enticing wonders to behold. But we didn't come to California to tour; it was an excursion to restore him to health and taking solitary walks on the shore of the ocean and placing ourselves in the presence of the 'Gentle Giant' Coastal Redwoods was a truly overwhelming and healing experience.
Our return to Western New York on April 12th was like waking up from a bad dream. No longer was Joe eyeing his watch longing for the hour when he could take his next pill nor was he laying on the couch ingesting too many sugars and fats to console himself on his sorry predicament. He wasn't up in the computer room where he fixed the mouse on a box nearby while he sat at the couch with his head up in the traction machine either. Now he was visiting friends and taking walks down the road with the dog. Now he was visiting the hunting club and overseeing renovations itching for the day he can get out his hammer and polishing his bow knowing that he again, in time, will be able to shoot it.
May 11 is the date Joe is scheduled to return to work. He respected the 30 day waiting period before attempting to return to normal duties. It is apparent, however, that the stamina he needed to regain is what he lost from overeating, overmedicating and the anxiousness in contemplating the uncertain.
At this time, this letter is composed during the last week in April. Our long winter suffering has come to an end, our journey to California is three weeks away and the return to his position as maintenance superintendent is a week away. Should we not have known about Dr. Schiffer and his training in this marvelous innovative technique, Joe would still be in pain, uncertain as to when he could return to employment, and as yet, not consulted the second specialist until next week.
Thank you Dr. Schiffer for not being afraid to empower people with information and developing a website. This is an example that should set a precedent for all physicians who truly want injured and sick people to benefit from their profession.
Respectfully submitted,
Mr and Mrs. Joseph J. Valone
Batavia, New York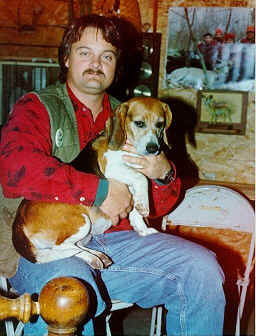 Joe Valone & Patchy his dog