ACD Testimonials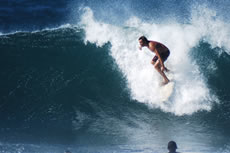 Patient Mark Price, back at what he loves to do after ACD surgery peformed by Dr. Schiffer. The patients in the Testimonials list below have had the same procedure as Mark Price pictured in the photo above.


August 25, 2008
Dear Dr. Schiffer,
Hopefully you can use this letter to help others understand what the pain and associated symptoms they are having actually mean. My hope is that they will seek out appropriate care quickly. It is important for those suffering from cervical spinal symptoms to get nerve root and cord compression early in order to avoid permanent disability. I really appreciate what you did for me and am so grateful to be able to enjoy a normal lifestyle without pain.

I developed a dull, constant ache along the medial border of my left scapula and into my upper back with similar aching running down into my left posterior upper arm on March 28, 2008. I had no prior history of neck injury, but in 2000 had an episode of similar pain treated with Prednisone which did not return. Motrin did not help. Over the next 48 hours the aching became much more severe with pain in the left upper back and upper shoulder radiating into the left posterior arm and forearm and onto the back of my hand. There were muscle fasiculations or minicontractions in all those areas as well as numbness over the triceps area. Also my deltoid and triceps muscles had become very weak. I knew these symptoms were related to a cervical #7 nerve root radiculopathy so to get some pain relief, I was started on a 10 day course of Prednisone 40 mg. per day. The hope was that this would reduce probable cervical disk swelling and decompress that nerve root. I got about 80% pain relief while on Prednisone but still had a lingering pressure at the base of my dorsal neck on the left. My arm also remained weak.

After finishing the course of Prednisone, I was improved for about 10 days. Then the same severe aching pain and other symptoms returned with a vengeance. I immediately got an appointment with a local Neurosurgeon and had a MRI and neck x-rays taken. This showed two significant disk herniations at C6-7 and C5-6 levels. No bony abnormalities were seen. The neurosurgeon offered me discectomies at both levels with bone grafts taken from my hip to fuse those levels and placement of an anterior metal plate when I decided the pain was severe enough. I had heard that some physicians were doing minimally invasive cervical disk surgery in other parts of the U.S. so I went to the internet under "cervical spine surgery" and was fortunate enough to find your website. I also went back on Prednisone to get pain relief as no pain medication, prescription or otherwise, helped.
I talked with you by phone, sent my MRI and C-spine films to you and got that really important CAT scan and further x-rays. The CAT scan showed extensive bone spurring around the herniated disks at both levels extending into the spinal canal and up against the spinal cord. The bony spurring was not seen on the MRI. Minimally invasive surgery was not possible because all that spurring had to be removed along with the disks. We scheduled surgery for May 22nd and you did two anterior cervical discectomies and one partial cervical disk at C4-5 level.

Now it's August 23 and I am fly fishing, hiking, jogging short distances (2 miles or so) and regaining my strength. My left arm strength is improving and I am essentially without pain. I no longer feel that pressure sensation in my left posterior neck. And although I know I'am not completely healed yet, I have very little limitation in the range of motion in my neck. With bone grafting and fusion that would not be the case.

My message to anyone who has symptoms similar to mine or has other cervical nerve root symptoms with numbness and/or muscle weakness and muscle fasiculations is to please get to a neurosurgeon early and discuss your options. Don't fool around with "conservative" therapy like pain medications, physical therapy, and steroids while nerve roots are being damaged by compression. Secondly, the standard disk removal with bone graft and joint fusion is not the only and probably not the best surgical option for most people. There are surgeons like yourself who can offer better procedures with shorter recovery times, less risk of complications, and more acceptable outcomes.

Thank you for your help.
Sincerely,
James E. Boyles M.D.